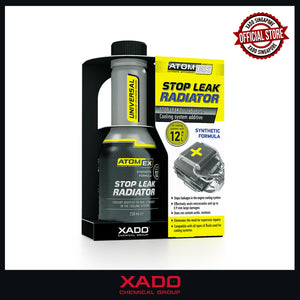 Driving a vehicle that has a leak in the cooling system leads to a decrease in the coolant level, causes the engine to overheat, and can result in the need for expensive repair.
Solution: Timely use of the sealing product will help eliminate the leak and restore the trouble-free operation of the engine cooling system.
Latest generation product designed to eliminate leaks in the cooling system
Tightens loose gaskets of the cylinder block, etc.
Completely eliminates leaks, reliably and permanently seals cracks and minor (up to 0.9 mm) damages in pipelines and joints
Protects the cooling system from rust and corrosion for a long period
Eliminates the need for expensive repair
Does not contain acids, nontoxic
Neutral to the materials of the cooling system parts (oil seals; rubber hoses, aluminum, plastic and steel radiators)
Universal in application for gasoline and diesel engines of cars and other equipment
Application
Warm up the engine to the operating temperature; it should be warm, but not hot.
Thoroughly shake the bottle.
Introduce the product into the radiator tank with the engine off.
Start the engine and let it idle for 5–10 minutes with the compartment heater turned on.
To prevent possible leaks in the cooling system, the product can be used immediately after replacing the coolant.
Dosage: 1 bottle (250 ml) of the product per 10–12 L of antifreeze.
Ingredients: water, additives, potassium hydroxide.
Notes
Attention! On a hot engine in the cooling system, antifreeze is under pressure. Be careful when you open the radiator cap; hot steam or liquid can escape from under it.

The product is compatible with all types of fluids used in automobile cooling systems.