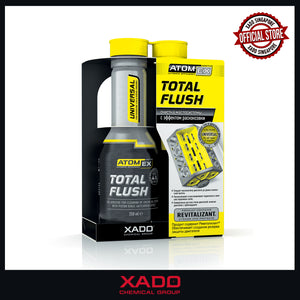 Engine oil system cleaner with the piston rings decarbonization effect.

Probem: Changing the oil without first flushing the oil system leads to deterioration of the detergent and protective properties of new motor oil and reduces its service life.The use of fuel with unknown quality, engine operation in difficult conditions (daily short-distance trips, city driving in start/stop mode, prolonged engine idling in traffic jams, engine overheating) lead to carbonization of piston rings and reduction of their mobility. As a result, oil consumption and smoking increases, power drops.
Solution: Carry out the anticarbon treatment of piston rings. The smallest metal particles abraded from friction surfaces of the engine are washed away together with the drained oil.
Solution: REVITALIZANT® involves abraded particles in the formation of a protective ceramic-metal coating.
Safely and thoroughly removes all kinds of contaminants from the engine oil system
Cleans the oil system to the level of technical purity
Decarbonizes and restores mobility of stuck piston rings
Cleans piston rings and grooves from carbon and resins
Decarbonizes stuck oil-scraper and compression rings, restores their mobility
Cleans the crankcase ventilation system
Eliminates the sticking effect of hydraulic liſters
Universal for all types of engines, including those equipped with a turbocharger
Due to the REVITALIZANT® nanocomponent, creates a reserve of the engine antiwear protection
Universally applied in gasoline, LPG, and diesel engines; specially tested for turbocharged engines
Directly during the oil system flushing, forms an antiwear coating on friction parts
Creates a reserve of the antiwear protection properties, prevents the formation of possible defects on friction surfaces during further operation of the engine
Application
Atomex® Total Flush is an effective comprehensive solution to take care of the engine oil system.
REVITALIZANT® and a unique combination of special detergent-dispersant components provide cleaning of the oil system to the level of technical cleanliness before changing the oil; decarbonization and restoration of mobility of piston rings; creation of a reserve of protection against wear of the engine friction parts.
Pour the product into the oil filler neck of the nonrunning engine warmed up to the operating temperature.
By severe engine contamination: to thoroughly clean the oil system to the level of technical cleanliness and decarbonize the rings, drive 150–200 km in regular mode.
By regular application: idle the engine for 10–15 minutes or drive 20 km.
Notes
The product is compatible with all types of motor oils, safe for turbocharger units.
Dosage:
250 ml of the cleaner per 4–5 L of motor oil.