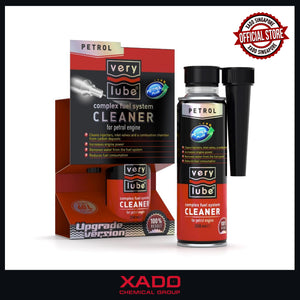 Complex fuel system cleaner
Carefully and effectively cleans the fuel system from all contaminations and improves the operational properties of fuel.
It is recommended to introduce the product into regular fuel in order to improve its quality by each fueling. When applied on a regular basis, the cleaner reliably keeps the main parameters of the engine (capacity, acceleration capability, fuel consumption, easy start) on almost new level and provides its properly functioning.
Advantages
Effectively cleans all parts of the fuel system even if it is severely contaminated.
Improves the fuel quality up to the Euro 4 standard.
Restores the engine capacity to the nominal values.
Improves the efficiency of fuel combustion and decreases its consumption.
Decreases detonation risk.
Removes water from the fuel system.
Eliminates problems related to the cold start.
Additional advantages
Similar to branded types of fuel, contains highly effective detergent additives (of the EURO+ standard).
Decreases exhaust toxicity.
Applications
Apply by each fueling for a tank up to 60 L of fuel.
Introduce the bottle contents through the neck of the fuel tank before fueling at the ratio of 1 bottle (250 ml) for 40–60 L of fuel.
Drive the car as usual.
Notes
Effective for all types of fuel delivery systems. In order to achieve the optimal results, apply by each fueling.