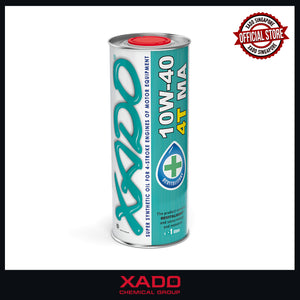 Reliability and stability in loaded modes will always be maintained at the highest level thanks to the patented formula of the REVITALIZANT® nanocomponent being part of XADO Atomic Oil.
Specially designed for modern high-powered four-stroke engines of motorcycles operated in loaded modes (high speed, prolonged maximum and/or dynamic loads)
Effective for engines of standard and off-road motorcycles with an integrated (or separate) gearbox
Reliably lubricates and protects engines with high specific power, including multi-valve, turbocharged, and direct-injection engines as well as those equipped with intercooling of forced air
Ensures smooth gear shifting and reliable operation of the clutch in the oil bath
Due to enhanced detergent properties, the oil keeps the engine perfectly clean
Surpasses the highest level of special requirements for oils used in four-stroke motorcycle engines (JASO MA).
Requirements and Approvals
Meets the requirements of the following specifications:
SAE 10W-40

JASO MA/MA2

API SL



Application
Used in four-stroke engines of motorcycles, scooters, all-terrain vehicles, and other motor equipment. Effective for loaded operation modes.
XADO Atomic Oil 10W-40 4Т MA SuperSynthetic is a full synthetic oil of a new generation with SAE 10W-40 viscosity designed for four-stroke engines of motor equipment. Specially colored green. Formulated on the basis of a complex synthetic base oil made from petroleum extracted from the North Sea shelf.
Contains a special package of highly effective additives. Application of REVITALIZANT® compositions is recognized as a promising direction in the field of energy and resource saving, and its effectiveness has been confirmed by certification tests in 35 countries of the world.
Notes
When using the oil, take into account the equipment manufacturer's recommendations.