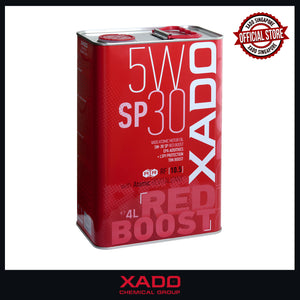 XADO Atomic Oil 5W-30 SP RED BOOST is a high-quality motor oil specially developed for gasoline engines of American and Japanese passenger cars, SUVs, vans, which require the use of low-viscosity oils with higher performance properties that meet the requirements for performance properties (API SR) and resource and energy saving (ILSAC GF-6).

 

Meets the strictest 2010 US standards for engine wear protection.

 

The oil can be used in gasoline engines running on natural gas (LPG and CNG) and biofuels containing up to 85% ethanol (E85).

 

Fits Toyota, Honda and Lexus hybrid vehicles and can be used where GM dexos1™, GM 6094M or Chrysler MS 6395 is specified.
high level of fuel economy

protection against high-temperature deposits on the piston and in the turbocharger;

mitigating the consequences of low-speed self-ignition of the fuel-air mixture (Low Speed ​​Pre Ignition or LSPI) in modern engines with GDI and TGDI during the entire oil change interval;

maximum protection against wear of the timing drive chain;

resistant to oxidation, reduces the formation of sludge and varnish;

engine protection from current wear thanks to the REVITALIZANT® component;

the RED BOOST additive stabilizes the alkaline number under high heat loads on the engine.
The oil meets the following specifications
API SP/SP-RC/SN-RC
ILSAC GF-6A
GM dexos 1 Gen 2
GM 6049-M
Ford WSS-M2C946-А
Chrysler MS 6395
Honda HTO-06