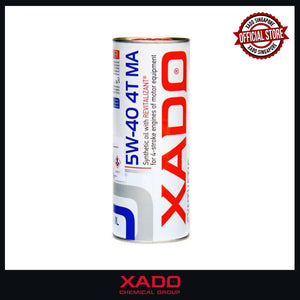 Fully synthetic lubricant for 4 stroke engine.
Contains REVITALIZANT® revitalized nanoparticles
XADO Atomic Oil 5W-40 4Т MA Super Synthetic is the latest generation fully synthetic lubricant with SAE 5W-40 viscosity grade for 4-stroke engines. Meet the highest requirements for motorcycle engine oil (JASO MA).
Base oil for XADO Atomic 5W-40 4T MA is produced on the basis of complex synthetic base oils from North Sea oil and special auxiliaries
The reliability and stability of the engine will always be kept in the best condition due to the exclusive innovative formula of revitalizant revived atom, added to XADO Atomic Oil.
Designed specifically for 4-stroke motorcycle engines of modern - high capacity, operating under harsh conditions (high speed, long distance, heavy load)
Very effective for road bike motor and wet clutch terrain vehicle or dry clutch ;
The gear shift is easy, smooth and ensures smooth clutch operation.
Along with advanced cleaning components , the engine minimizes the amount of waste.
Meets the requirements of the following specifications:
SAE 5W-40

JASO MA/MA2

API SL