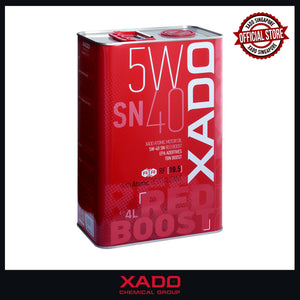 XADO Atomic Oil 5W-40 SN RED BOOST is a high-quality fuel-efficient motor oil. Contains REVITALIZANT® RF[10,5]* and the innovative additive RED BOOST.
XADO Atomic Oil 5W-40 SN RED BOOST is a modern universal motor oil for gasoline and diesel engines of passenger cars and light commercial vehicles. Can be used in engines equipped with catalytic converters, turbocharging and direct fuel injection systems.
reduction of fuel consumption;

very high viscosity index and high shear strength;

a protective lubricating film that is stored at very high operating temperatures;

high dispersing and cleaning properties;




a very high degree of protection against wear, corrosion and foaming;

protects devices for additional cleaning of exhaust gases (catalytic converters)

engine protection from current wear thanks to the REVITALIZANT® component;

the RED BOOST additive stabilizes the alkaline number under high heat loads on the engine.
The Oil meets the following specifications
API SN/CF
ACEA A3/B4
VW 502.00/505.00
MB 229.1/229.3
PSA B71 2296/B71 22
Renault RN 0700/0710
GM-LL-B-025
Porsche A40
Fiat 9.55535-M2/H2